Days before the Premier League returned from its COVID-19 enforced slumber, Jack Grealish unveiled a bold mission statement for the rest of his season.
The small socked, big calved playmaker beamed confidently on a video conference call, revealing that he was ready to take on the hefty responsibility of keeping his beloved Aston Villa in the Premier League. "I don't want to say this in an arrogant way, but I embrace [the pressure]," Grealish told Sky Sports back in June.
"I love the fact it's like that, if I'm honest. Being the local lad and captain of the club, I absolutely love it and try to take it in my stride which I think I have done this season."
Just over one month on, Villa remain in the relegation zone and Grealish has not registered a goal nor an assist in five post-lockdown games.
His decline in form has been as disappointing as it has been unexpected. While his grandiose claims may look slightly arrogant, at the time no one batted an eyelid, such has been Grealish's talismanic performances this season.
Prior to the league's shutdown, the midfielder had been Villa's star man by some distance. The most fouled player in the Premier League, he had also created the second most chances, suggesting he had been providing an end product as well.
More recently though, Grealish has looked transformed - and not in a good way.
After Dean Smith's side were soundly defeated 2-0 by Liverpool on Sunday, Sky Sports pundit Graeme Souness was quick to point this out. Speaking with all the grumpy intensity of a conservative step dad who had just caught their son part way through an intense male grooming routine, Souness accused Grealish of lacking "intensity".
"I would not want to have been the most fouled player in the Premier League," he said (via TalkSport).
"That means I'm holding onto the ball too long, I'm taking extra touches when I don't need to.
"It means you're not seeing the picture quickly enough. There's no doubt about it. He's easy on the eye, he's silky on the eye, but I'm yet to be convinced by him."
In a bizarre turn of events Grealish indirectly responded to this criticism, retweeting a graphic including the aforementioned chances created stat. However, Souness does have a semblance of a point.
The simple fact is that since football has restarted, Grealish has not delivered on his promise of leading Villa's charge against the drop.
In the five games since the lockdown ended, he is averaging a progressive distance of 191.6 yards per 90 minutes, which in Layman's terms translates to yards gained via dribbling. This is a marked decrease on the 233 yards he has averaged over the course of the entire season.
Grealish's ability to dance his way through defences has been one of, if not the key weapon in Villa's offensive arsenal and without that they have struggled to create chances in recent games. Admittedly, Villa have endured some tough fixtures with games against Chelsea, Wolves and Liverpool all resulting in unsurprising defeats.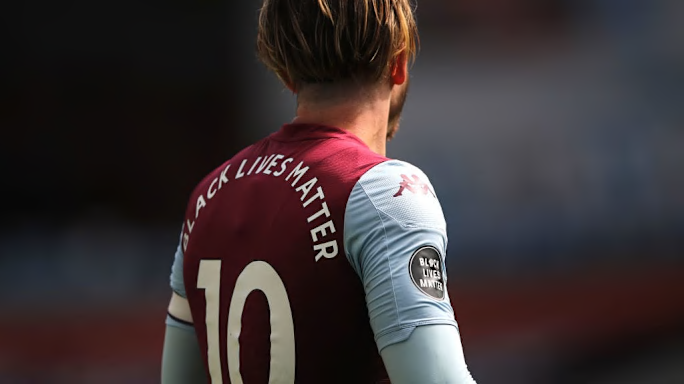 However, in similarly challenging fixtures Grealish has not struggled to rack up impressive numbers. In matches against Manchester City, Tottenham, Leicester and the reverse game against Chelsea Grealish progressed the ball further than in any of Villa's post lockdown defeats.
His passing stats tell a similar story. Against Newcastle, Liverpool and Chelsea his overall pass completion rate dipped below his seasonal average - significantly so in some cases. Across all post-lockdown games his shot-creating actions are also down as his progressive distance via passing.
All this points to the unfortunate conclusion that Grealish - for whatever reason - has become far less penetrative since the Premier League's returned. He has a chance to respond against Manchester United on Thursday - a club with whom he has long been linked with. Grealish's display against the Red Devils will not just be about furthering his own personal ambitions though. It is also a pivotal moment in his boyhood side's survival fight.
It's time for the hometown hero to make good on his promise, step up to the plate and inspire the Villans to an unlikely but much needed victory.
---
Source :
90min