Aston Villa have one of the longest and most turbulent histories in English football. From the highs of European Cup success in the 1980's and double League Cup victories in the 90's, to relegation in 2016
Throughout their time in and out of the top flight they have worn a great selection of claret and blue kits. Here at 90min, we've compiled the top 10 home kits to be seen at Villa Park.
Let's have a look see...
---
10. Nike (2011-2012) First up, a bit of controversy. This one divides fan opinion but I, for one, really like it. The chequered frontage is subtle enough that you don't overly notice it and I don't mind the sponsor despite it sounding a little sleazy.
What really makes this kit unique is the black socks - the first time for more than 50 years they had been that colour. Again it shouldn't really work, but it does. Think that speaks to Nike's craftsmanship more than anything.
---
9. Diadora (2002/03) Cult hero Juan Pablo Angel models this iconic number from 2002/03. The collar and sleeve trim make this one iconic as well as one of the better sponsors in defunct car manufacturer Rover.
Only thing that slightly lets it down is the claret socks, something that hasn't often been done for the simple reason that it looks pretty bad. Diadora took notice and changed them back to white for the next season where Villa finished sixth, so must have been a lucky charm.
---
8. Macron (2014/15) The FA Cup final kit of 2015 next up. This is one of the more successful kits in recent times, not just for its design but for what was achieved in it. Aston Villa may have been battered by Arsenal at Wembley but at least they looked good.
A nice pine stripe design with a just about bearable sponsor and a really nice collar make this one a memorable shirt. The hooped socks also add a nice element to the design.
---
7. Le Coq Sportif (1981/82) The famous European Cup-winning kit of 1982 was also the last Villa kit without a shirt sponsor, and boy is it beautiful. The old Villa logo is emblazoned in the centre, with gold trim and long sleeves a classy touch.
It's just a beautiful kit and I'm sure for many Villa fans old enough to remember, this is their favourite for that famous night in Rotterdam where Peter Withe scored the winner against Bayern Munich.
---
6. Umbro (1992/93) Ah the string collar. This is a seriously unique piece of kit design, rarely seen since and it weirdly doesn't look out of place. The circled collar stripes are awesome and the sponsor and club logo match up really nicely.
This is unquestionably 90's and began a very successful era for the club as they finished as runners up in the inaugural Premier League season wearing this very shirt.
---
5. Reebok (1999/00) If it makes Paul Merson happy, it sure makes us happy too. This one was a rare shirt in the sense that makers Reebok switched to a claret and blue stripe design, something rarely done on Villa home shirts. With a nice colour contrasting sponsor logo, it definitely works on this occasion.
This was a great season for John Gregory's Villans as they finished sixth once again in the Premier League and made it to Wembley for an FA Cup final meeting with Chelsea, where they lost narrowly to a stunning Roberto Di Matteo strike.
---
4. Reebok (1995-1997)
The kit that Villa won their second League Cup title wearing. Another great 90's kit with Villa logos across the shirt and the shorts. Again, it's quirky and makers Reebok pull it off.
The collar is super classy here and the shirt sponsor again fit's nicely. It's not the most memorable visually but what Villa achieved in this shirt (mainly due to Dwight Yorke's goals) over two outstanding seasons makes it one of the very best.
---
3. Asics (1993-1995)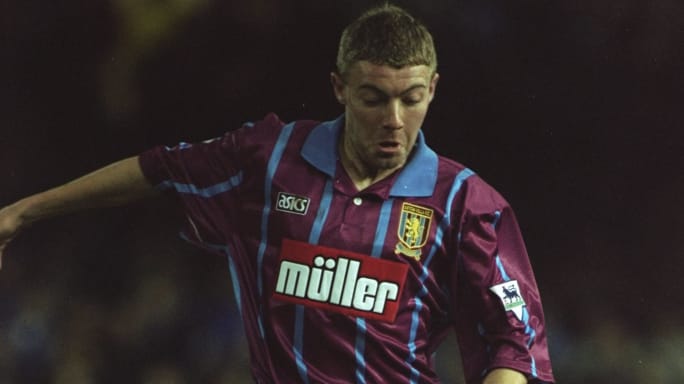 This is the best 90's kit though. I mean look at it. The Müller logo, the oversized collar, the perfect stripe combination. Asics rarely make football kits anymore, but maybe they should return because this is magic.
This was the kit for Villa's first League Cup win when Ron Atkinson's Villa downed the mighty Manchester United at a packed Wembley with two goals from Dean Saunders, to deny United a historic domestic treble.
---
2. Luke 1977 (2018/19) When little-known mens clothing chain Luke 1977 agreed to do Aston Villa's shirt on a budget for their third season in the Championship, fans can't have been expecting much.
What a surprise, therefore, when the humble Midlands manufacturers produced one of Aston Villa's best kits of all time. The definition of classy, this kit was simple, sleek and far too nice to be in the Championship. Luckily enough then, that this was the kit Villa won promotion back to Premier League in.
---
1. Nike (2009/10) Top of the pile is this marvellous effort from Nike in the 2009/10 season. Certainly Villa's most recent successful Premier League season as they finished sixth and made it to Wembley for the League Cup final, narrowly losing to Man Utd.
The kit oozes simple elegance with great lines, deep claret and subtle gold drips. But the best bit about this kit is the choice of sponsor in Acorns - a local children's hospice, which the club contributed financially towards and still does to this day. A classy note to end on.
---
Source :
90min