We were, what, 40 minutes into the return of the Premier League we've all been craving SO much, and already there has been incredible controversy.
You can't write this stuff.
Should Sheffield United be ahead here!? ?

It looked as if #AVFC 'keeper Ørjan Nyland took the ball over his own line but goal-line technology says no goal! ❌ pic.twitter.com/kbSsJajwrF

— Sky Sports Premier League (@SkySportsPL) June 17, 2020
As Aston Villa host Sheffield United in the first game of top flight English football for 100 days, all the talk following the game will not be centred around our wonderful league returning, but instead about how goal-line technology seemingly missed the memo.
A long free-kick was pumped into the Villa box and it seemed as if Orjan Nyland would have a simple take to keep the scores level. He was mostly unchallenged, so, simple collection and then back on the attack, right?
Ohhhhhh no, this is the Premier League, it's never quite that simple.
The Norwegian goalkeeper fumbled with the ball, but with his momentum taking him backwards, he fell into his own net with the ball still in his grasp. There was a little nudge from the Villa's Keinan Davis that didn't help, and the unfortunate inevitable happened: an own-goal.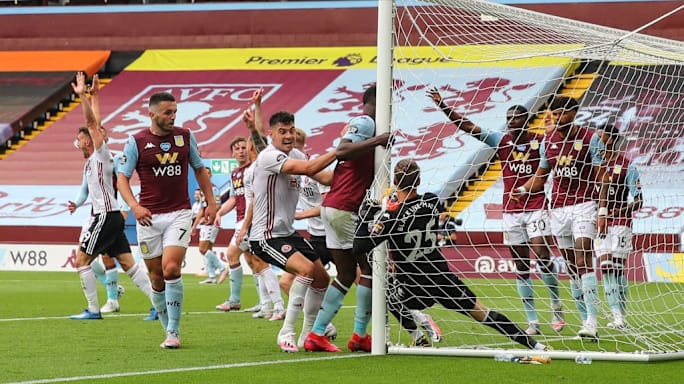 I mean, it was clear. Nyland CLEARLY carried the ball into his own net. The ball was so far behind the line that Michael Oliver's neat little watch was going to vibrate and give the away side a goal.
Not quite.
Despite literally everyone on planet earth seeing the ball go well beyond the goal line, nothing happened. No call from Oliver, no first Premier League goal in over three months. Nothing. Replays confirmed what we all already knew - even if it wasn't shown up with the neat little graphic we get when the technology is needed.
What on earth happened? Moreover, what on earth didn't happen?
Twitter reacted accordingly, of course.
Even goal line technology is debatable these days. Strange times.

— Gary Lineker (@GaryLineker) June 17, 2020
I like how all the discussion about GLT not working has masked over some absolutely awful goalkeeping

— Scott Saunders (@_scottsaunders) June 17, 2020
One club in particular were not best pleased.
Some weighed in with their thoughts about what could possibly have happened.
ball has to go 2 metres past the line, keep up

— Duncan Alexander (@oilysailor) June 17, 2020
Well, guys and girls, the Premier League is back alright....
---
For more from Ross Kennerley, follow him on Twitter!
Source :
90min